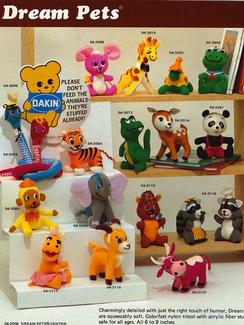 Not quite dolls but close enough. Appeals to the hairdresser in me (which I was for over 28 years), and I can only dream of having Brooke, Barbie, and Farrah as real life salon clients.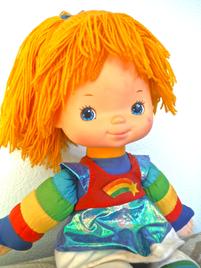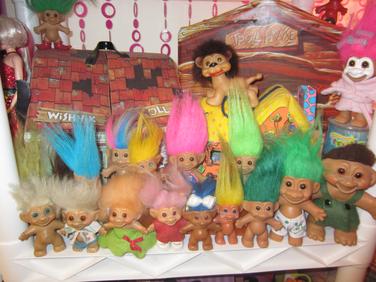 If the doll was unusual then I usually had to have it for the collection. Some of these novelty type dolls include the Go-Go Drink Mixer, a blonde big-boob bimbo (try saying that after a few drinks) who really stirs cocktails by go-go dancing when you push her button; talking "Trailer Trash" dolls who utter the kind of talk you'd expect from an "inbred" living in the trailer park; and gay Billy who is, ahem, anatomically endowed and had an equally endowed Latin Lover named Carlos from Miami's South Beach (aww, Carlo has Billy's name tattooed on his bicep - now that's love).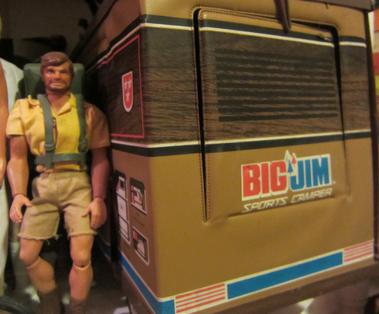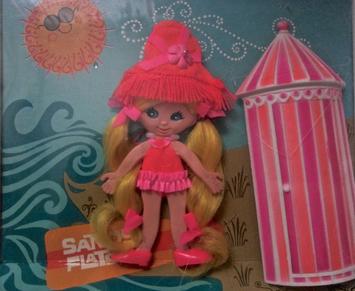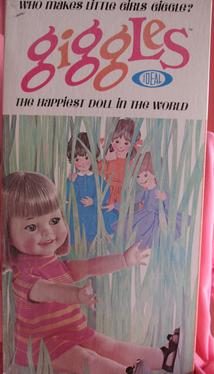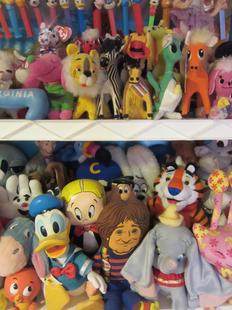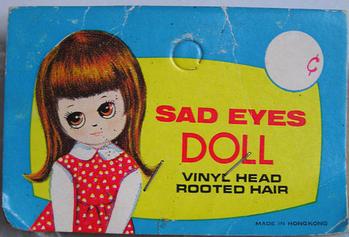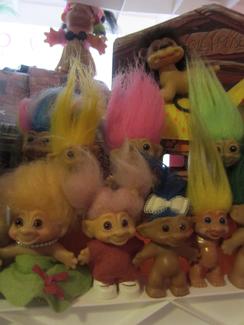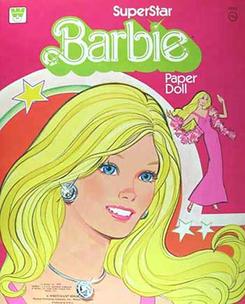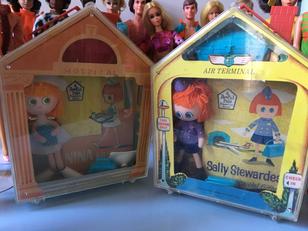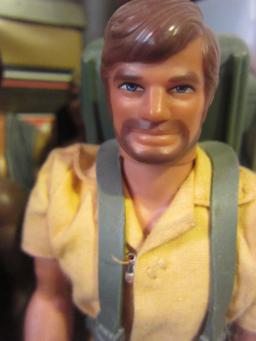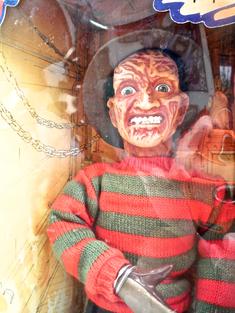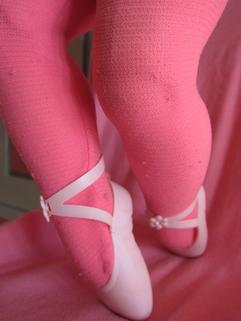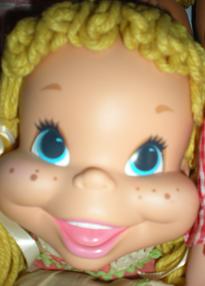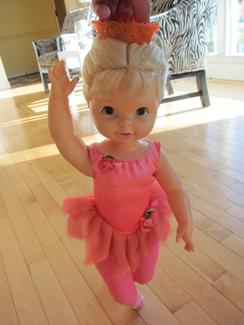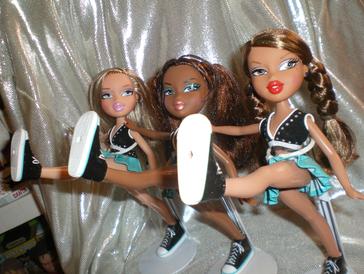 Late-1960s Doll line from Whitman, a company known for paper toys such as coloring books, paper dolls, and puzzles. Sally Stewardess (above right) is my favorite PeePul Pal.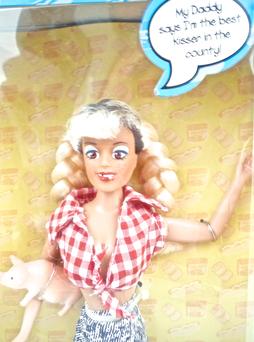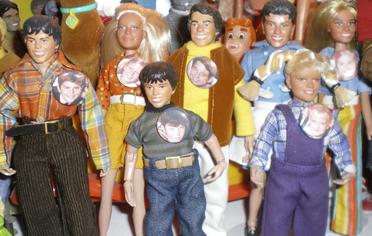 Small Talk Storybook Dolls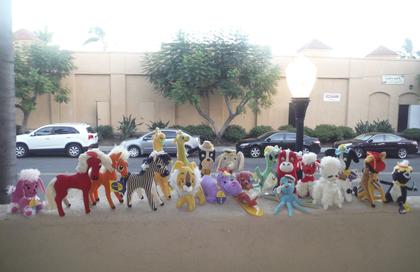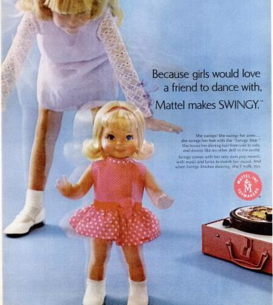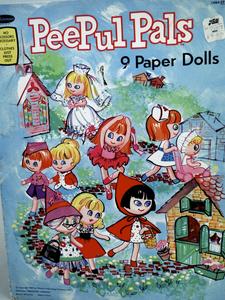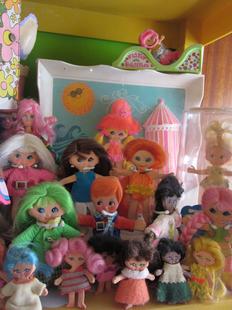 Jem (above left) and Maxie (above right) are not the same doll (although both manufactured by Hasbro) but the only two dolls that caught my attention in the 1980s besides Barbie.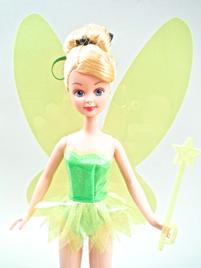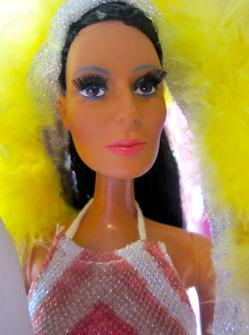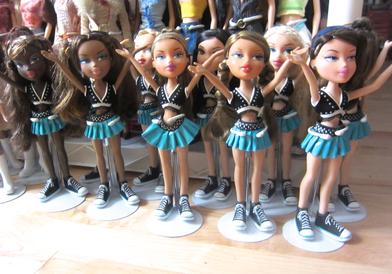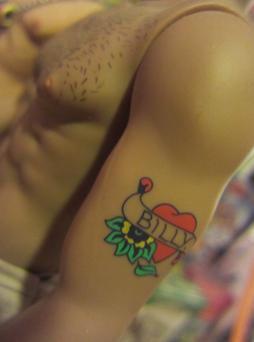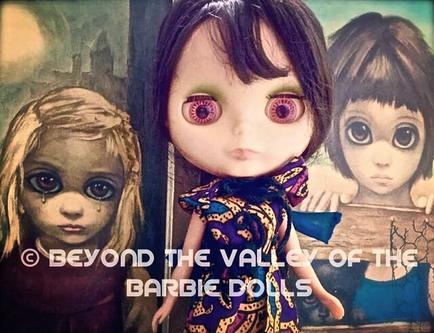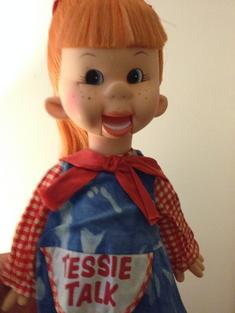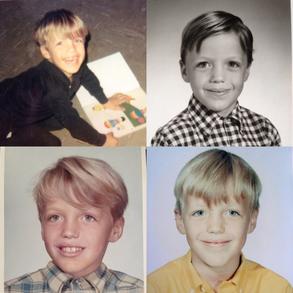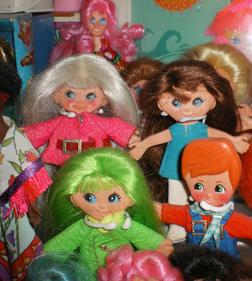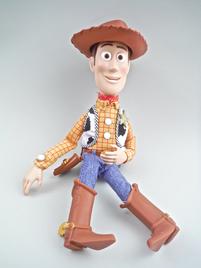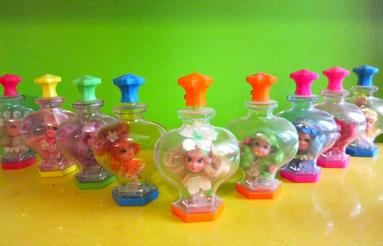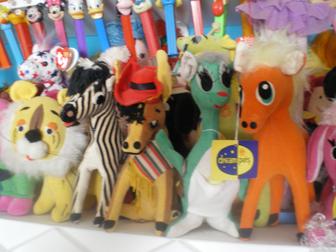 Bring it On! It's a Bratz drill team [high kick] dance off!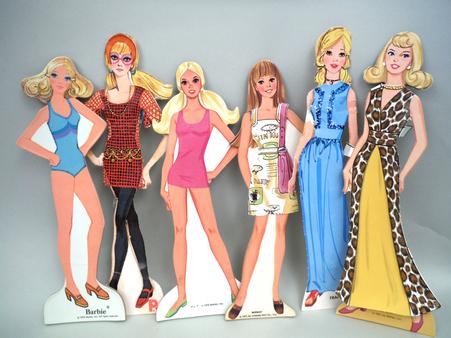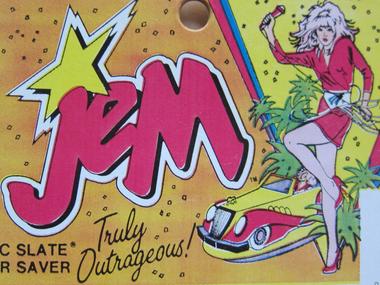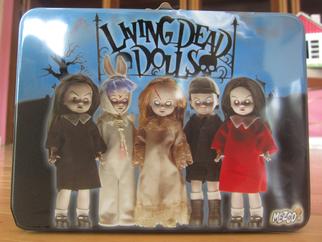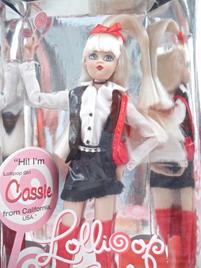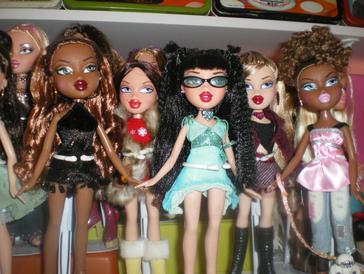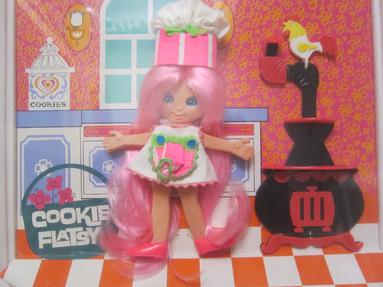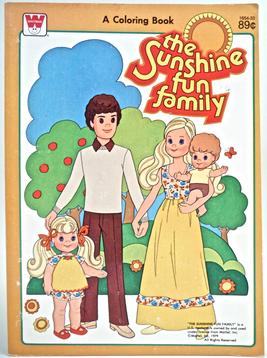 The Maxie cheerleading squad hang tough with the New Kids on the Block.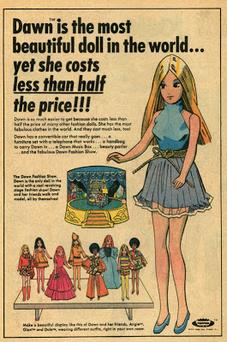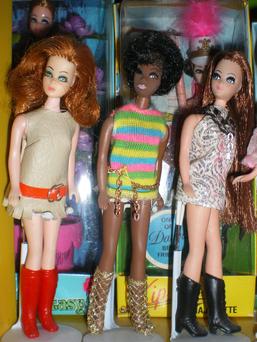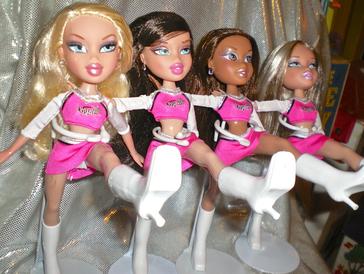 Beyond the Valley of the Barbie Dolls



​

Barbie doll Photography & Collecting by David 'dj' Mansour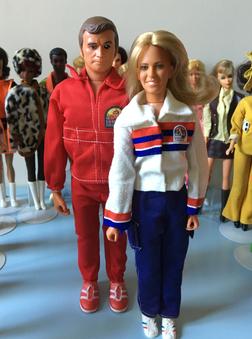 Raggedy Ann, Emerald the Enchanting Witch, Tippy Tumbles, and Drowsy and Baby Tenderlove.
It was such a trend for child actresses of popular TV shows to have her doll in the late-60s, early-70s. Most notably were Cindy Brady and her Kitty Karry-All of The Brady Bunch, Buffy Davis and her Mrs. Beasley of Family Affair, and Dodie Douglas and her Myrtle of My Three Sons. I have all three TV dolls in my collection (bottom photos)!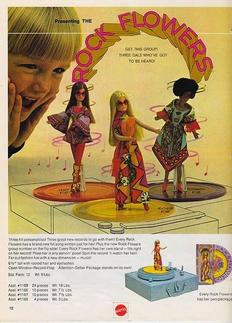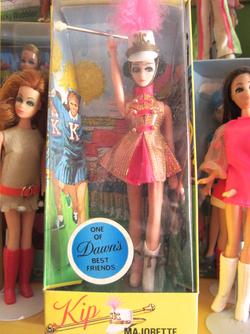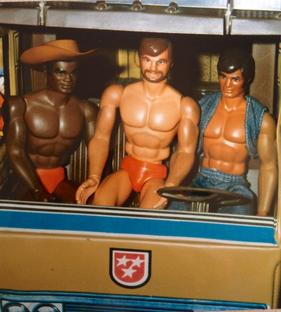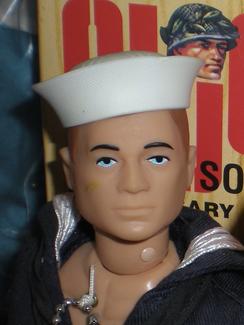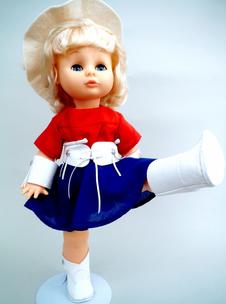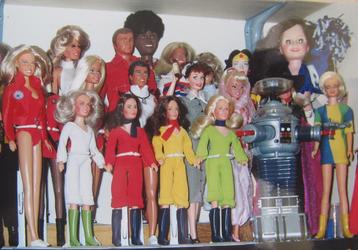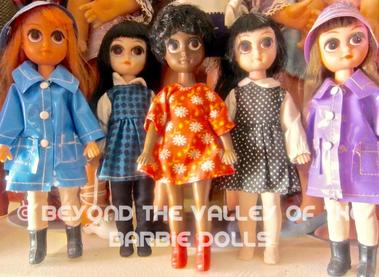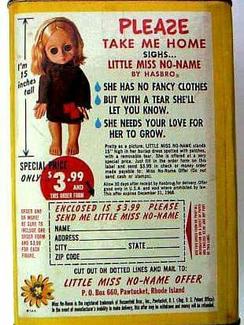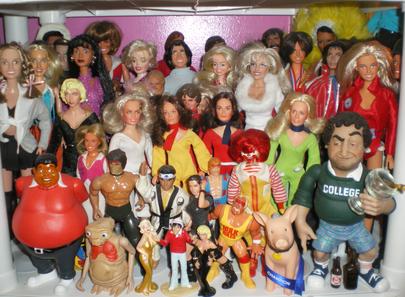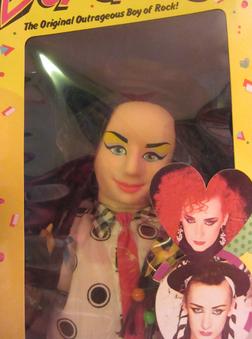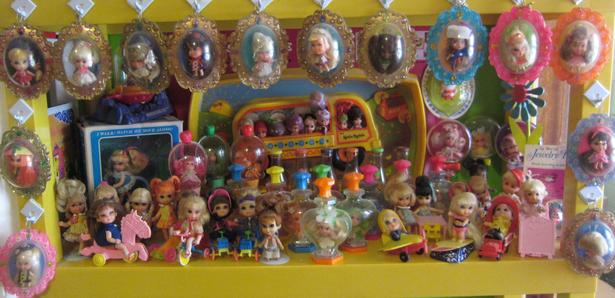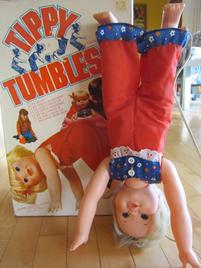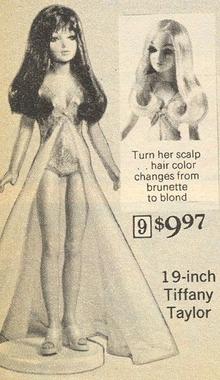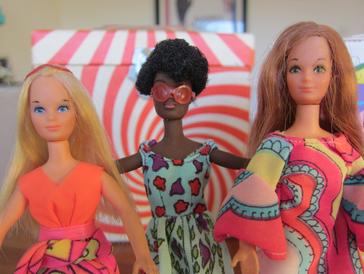 Jem... She's truly outrageous!

Favorite doll lines that I collected in more recent times included Zodiac Girlz, Disney Princesses, Lollipop Girls, and Monsieur Z by Jason Wu (above).

Sugar Planet and Diva Starz (below).

Marilyn Monroe is my #1 idol and I knew this Seven Year Itch doll from World Doll would be fun to photograph (guess how I got her skirt to blow up?). It's a great likeness of Marilyn too!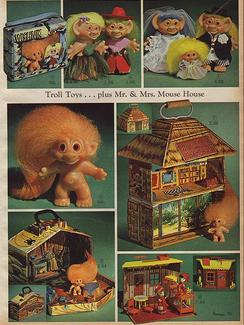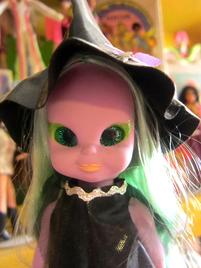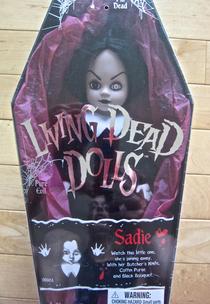 My dear Corgi Martha posing with Swingy and Tiny Swingy. Martha was always a trooper when I made her pose with dolls. I miss that girl.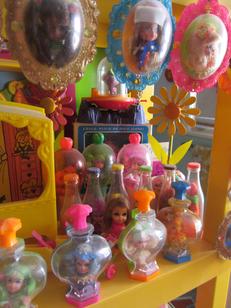 Other dolls...
Alongside the prominent fashion dolls, baby dolls, and action dolls I had sub-categories of dolls grouped on display throughout the toy collection. Most of these dolls were characters, celebrities and other popular figures of cartoons, movies, television and the such. If they caught my interest I'd fervently collect them and place it on the shelf (no matter how crowded the shelf was getting - I'd find the room). Today many of these have been sold off or are currently being sold in my web store, From ABBA To Zoom. It was an obsession for sure but looking back I believe I found comfort in owning a favorite icon from childhood (I also give them credit for inspiring me to write the book From ABBA To Zoom, in which many of these characters can be found throughout the pages of my pop culture encyclopedia.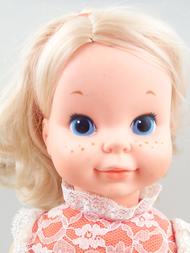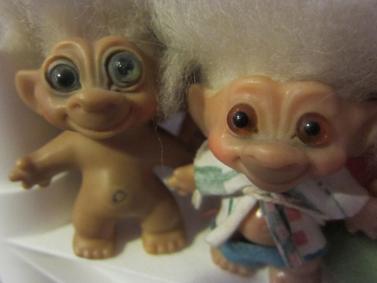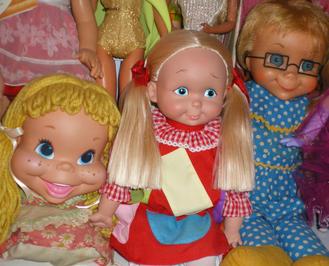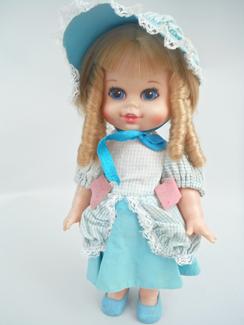 All photos on this page are the copyright of ©Beyond the Valley of the Barbie Dolls and ©David James Mansour. I don't mind if you use them but please give me and/or this website credit if possible.

Thank you, David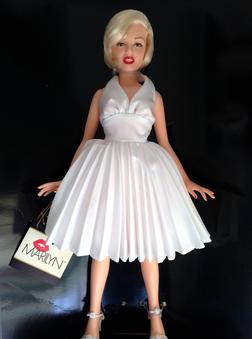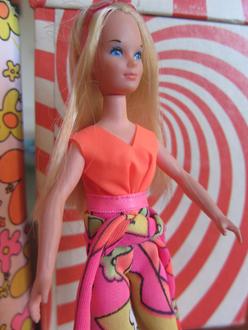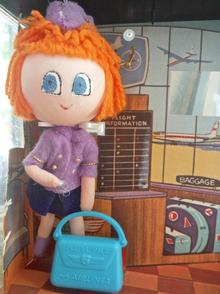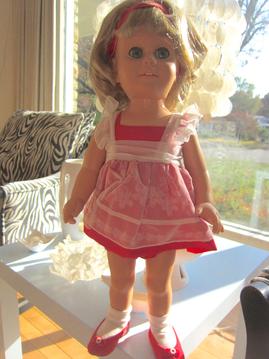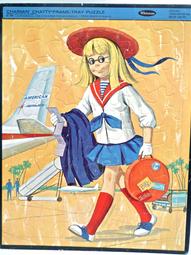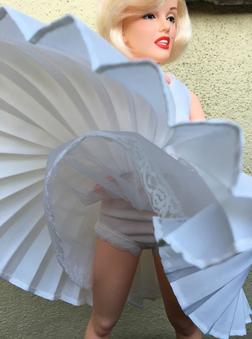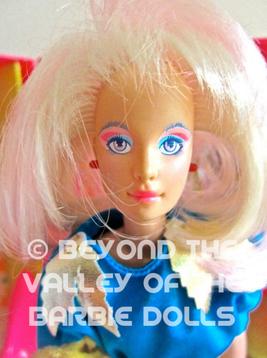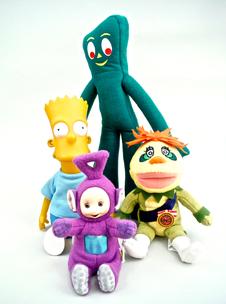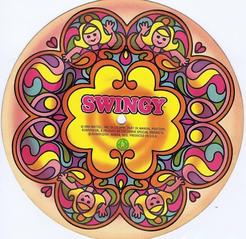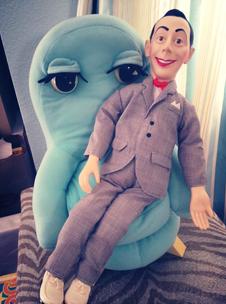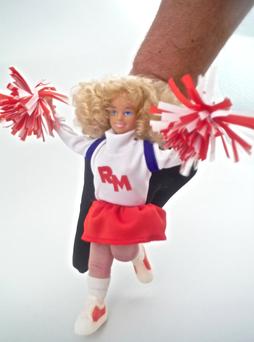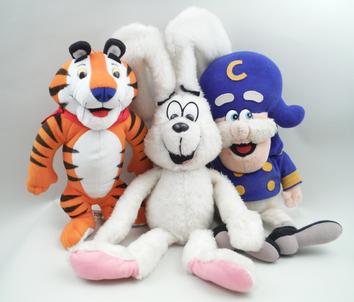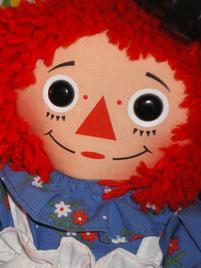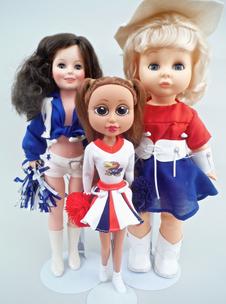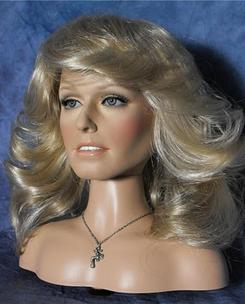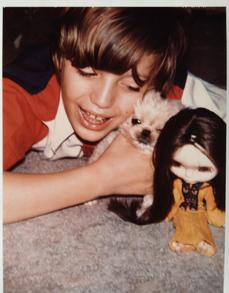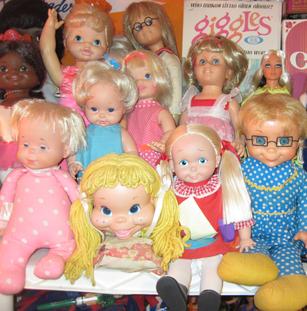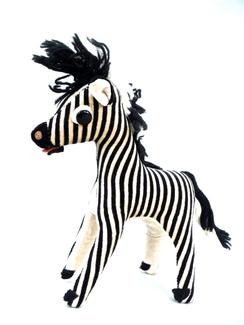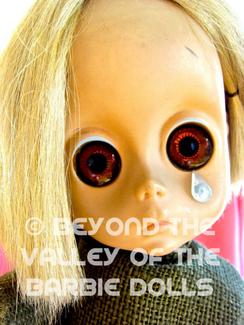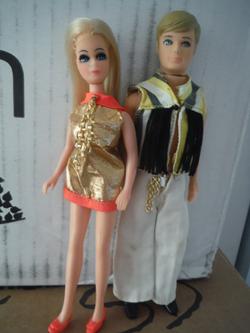 Other Dolls Beyond the Valley of the Barbie Dolls
Although Barbie is the doll who wins my heart, I feel it's important to acknowledge the other dolls I've enjoyed collecting over the past thirty years. They made up such a large part of my toy collection! While collecting I had my eye on the dolls from the 1960s and 1970s (Liddle Kiddles, Dawn, Flatsy, Crissy, and Mrs. Beasley were favorites). These were what I fondly remember my kid sister Kim and other girls of our generation playing with and nostalgically I wanted to have them in the collection. While collecting I also acquired dolls from the 1980s and up, buying what ever newly released doll caught my fancy (Bratz were hands-down favorites). Now if you suffer from pediophobia my Toy Room at its peak was not the place to enter because dolls in all shapes and forms dominated the shelves throughout! ​

In 2012, the doll collection was packed up for the move from Kansas City to San Diego. Today the majority remain in storage while others are being sold in my on-line vintage toy store, From ABBA To Zoom (www. shop.fromabbatozoom.com). With this page I salute these "other" favorite doll lines with photographs among the collection and from photos taken exclusively for my web store and blog sites.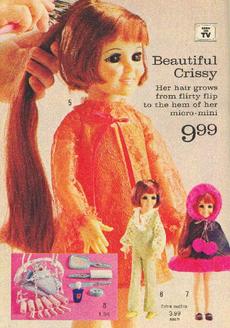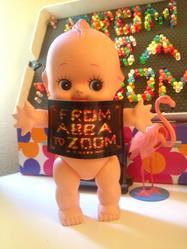 At its peak I had hundreds of paper dolls in my collection. Many have now been sold off since moving to California. Sadly paper dolls seem to be a thing of the past - you hardly see them anymore. That's too bad...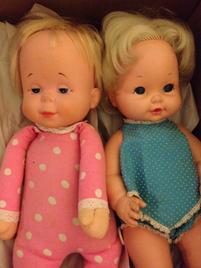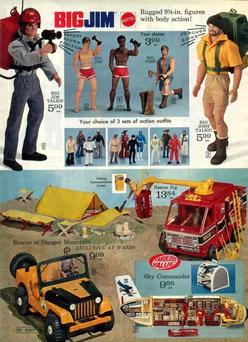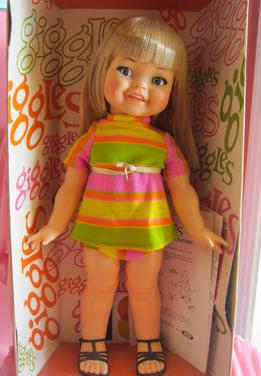 When I did book signings and TV shows to promote my pop culture book, From ABBA To Zoom, I also took Mrs. Beasley along with me. She's such an icon of my generation's childhood!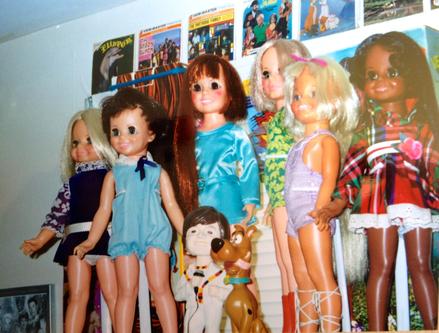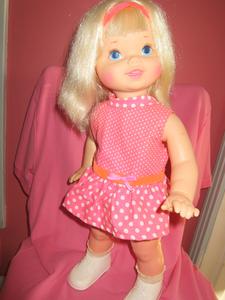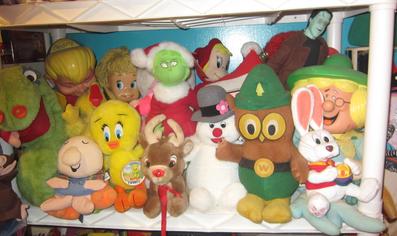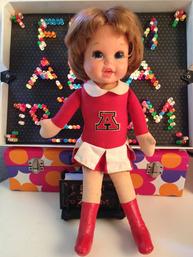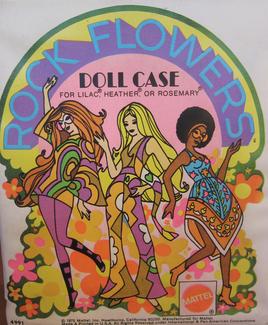 My friend Mo with her Chatty Cathy, circa 1964. She gave me this sweet photo to share on the website.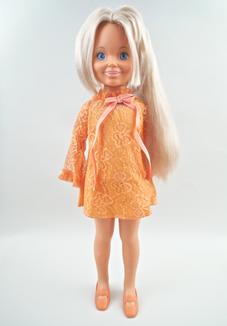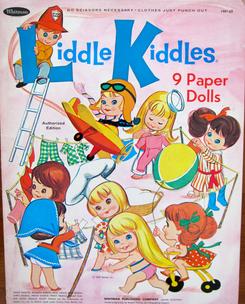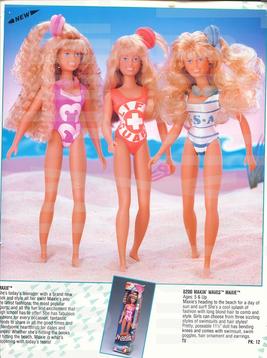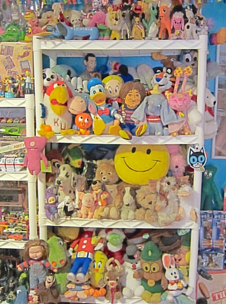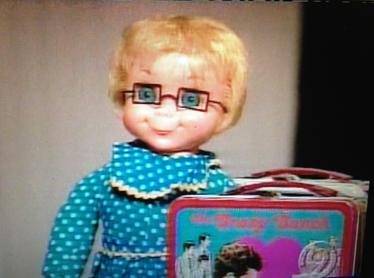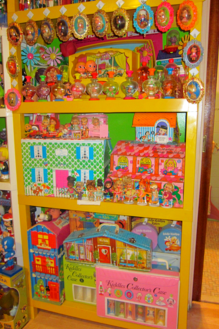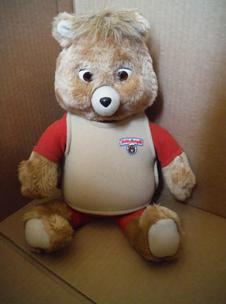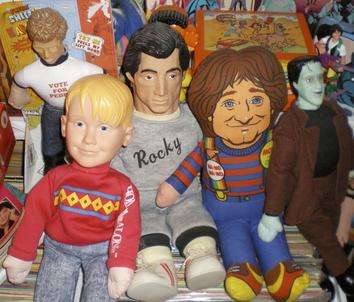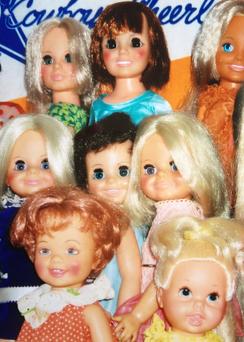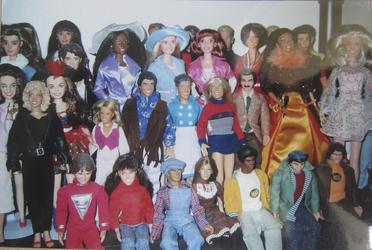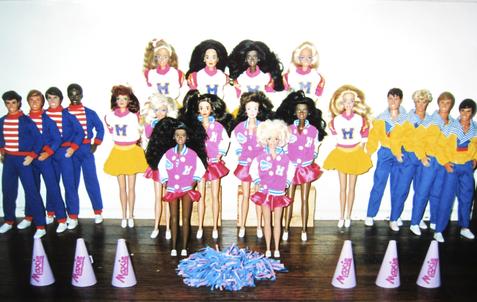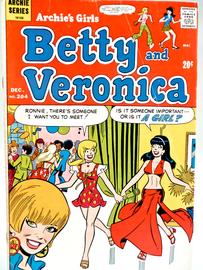 I'm a huge collector of Keane Big Eyes (below right) and similar artwork from the 1960s so naturally I'd be attracted to big eyes dolls such as Little Miss No Name, Susie Sad Eyes and later, Blythe.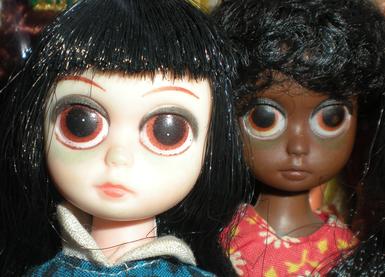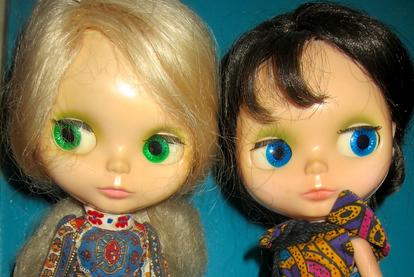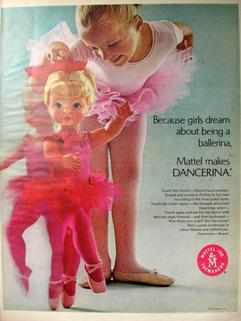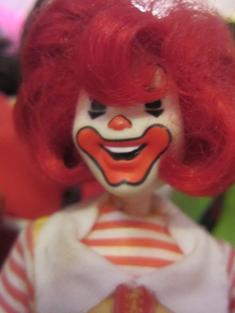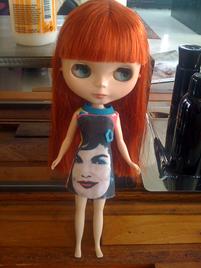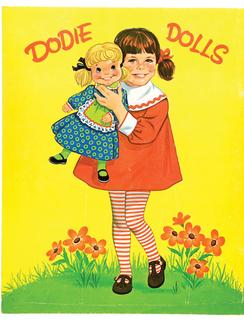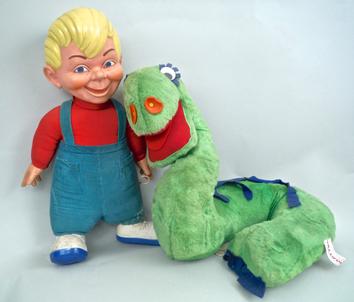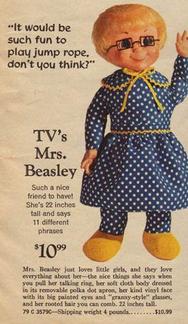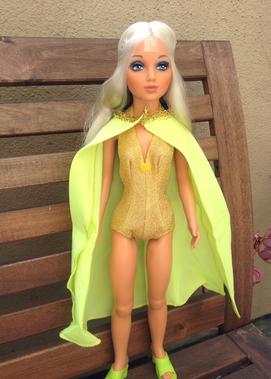 "Blythe and the Keanes" by David Mansour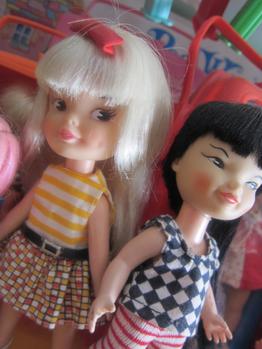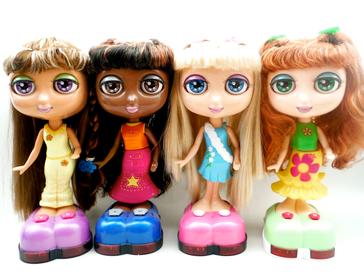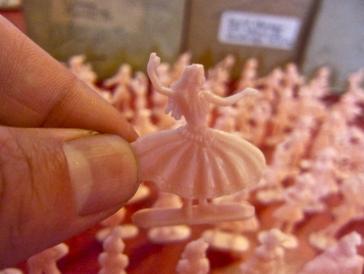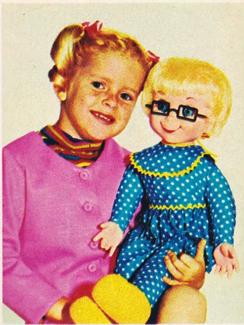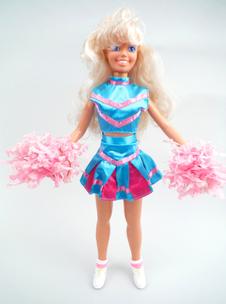 In Dedication...
To the little kid me, David James Mansour - A bright-eyed boy who in childhood innocence couldn't comprehend that "dolls are for girls." I was naturally attracted to dolls and had sisters and girl friends that allowed me to play with them. I'm grateful for a family that didn't have issues with me playing with dolls and for parents who bought them for me to play with (Barbie's Ken and Liddle Kiddles were favorites). Unfortunately my love for dolls got me called "sissy" by bullies throughout grade school. That's me in awkward prepubescent glory (above center), circa 1972, posing with mom's Pekingese puppy Candy and kid sister Kim's Blythe doll, which I enjoyed playing with more than she and I just had to get a photo with! Fast forward thirty years later (above right) and I'm still playing with dolls, as a collector that is, and if you look to the left of the photo you can spot my sister's Blythe doll happily displayed on a shelf! So yes, I dedicate this to little kid me, David James Mansour. I'm proud of you for always following your heart's desire, despite name-calling, ridicule and getting unfriended. This everlasting desire has put you on the path to where you are now... and no regrets. "To thine own self be true." ~ William Shakespeare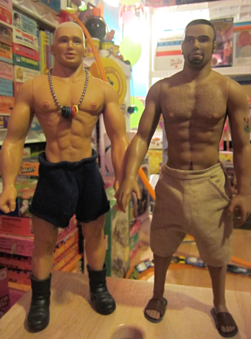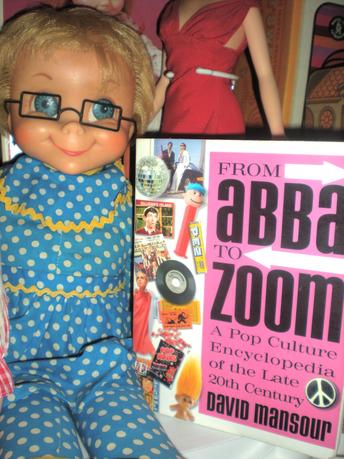 I know toydom's iconic "Fighting Man" is technically an action figure and not a doll but...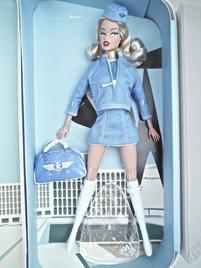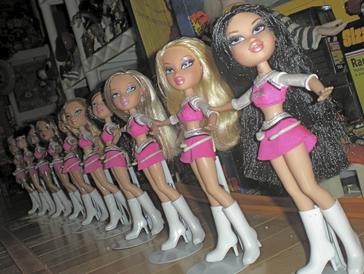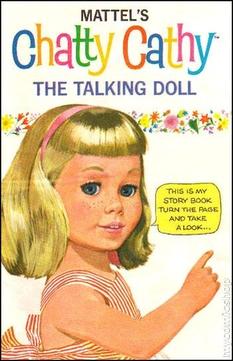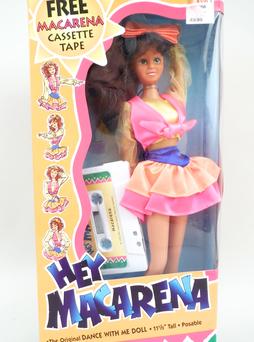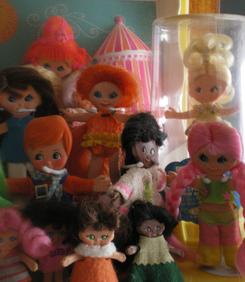 Liddle Kiddles are my favorite second to Barbie. I love this miniature doll line and really treasure the many Kiddle items I have in my kollection, including carry cases, playhouses and other accessories!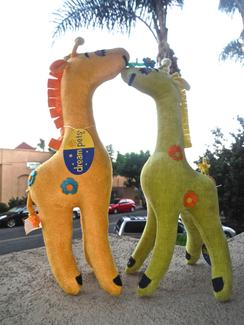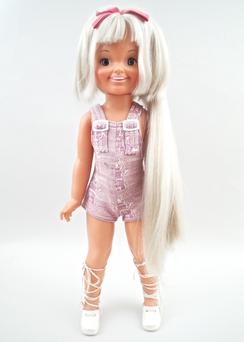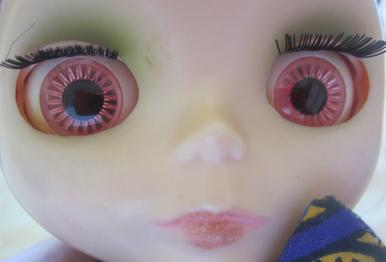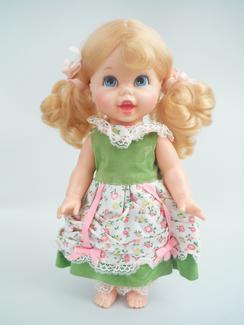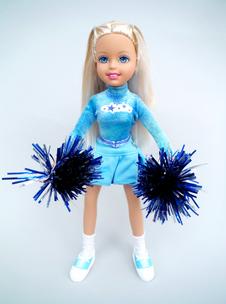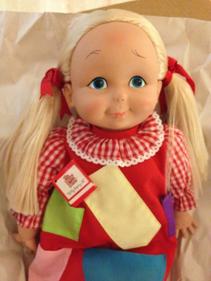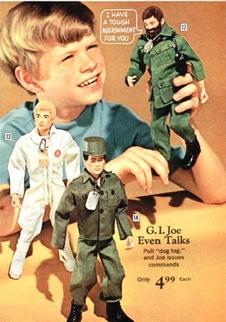 While I'm sure most boys of my generation claim G.I. Joe as their action hero, it's Big Jim and his buddies--Big Jack, Big Jeff, and Big Jeff--whom I claim as my favorite. Plus these handsome fellas have big biceps that actually bulge!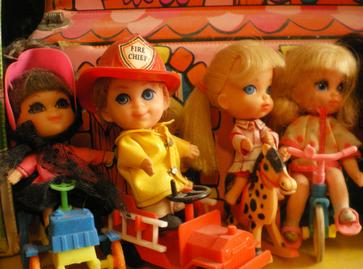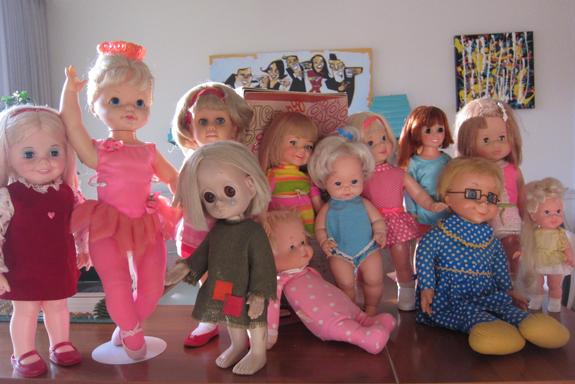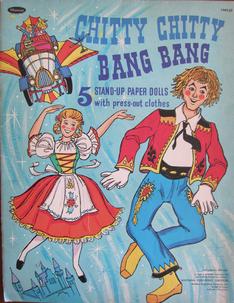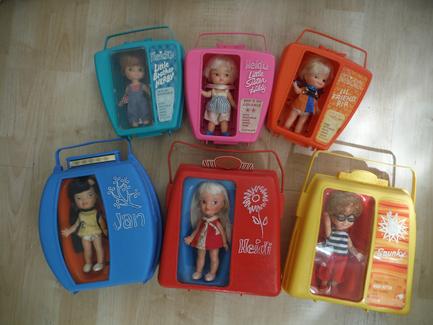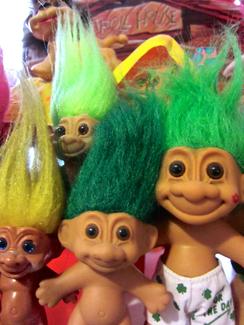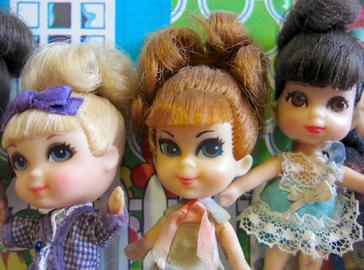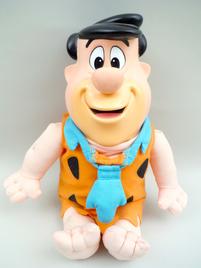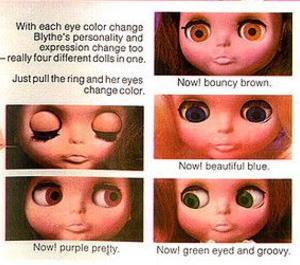 Once upon a time... Little Bo Peep, Cinderella, and Goldilocks.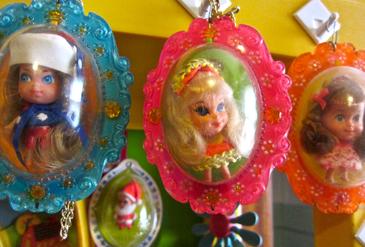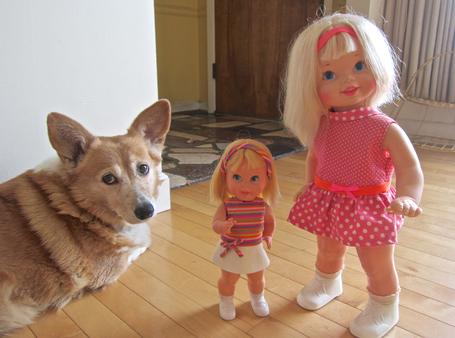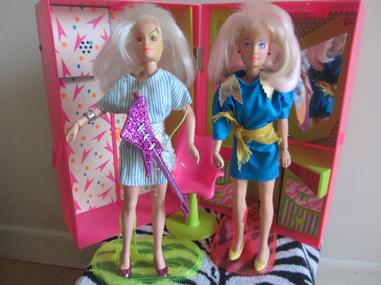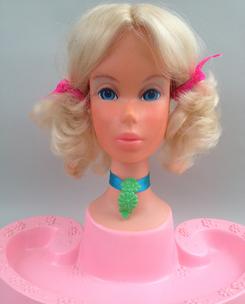 I created a Barbie cheerleading squad, including Ken yell leaders, in which the dolls had "try-outs" (above left) and a Bratz drill team kick line (above right).
Celebrity dolls were a lot of fun to collect! You never knew who was going to be manufactured next. I had acquire a virtual who's who of Hollywood - Name the star and most likely I had their likeness as a doll!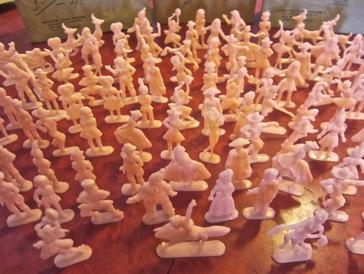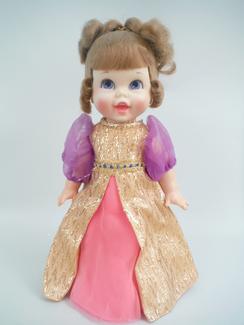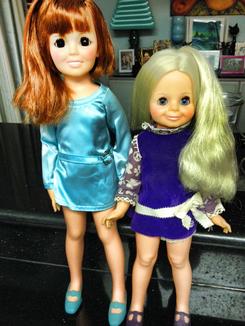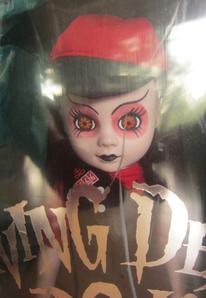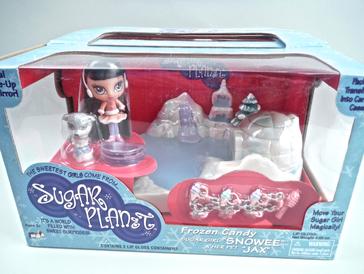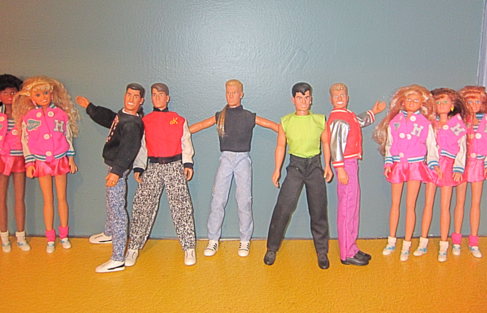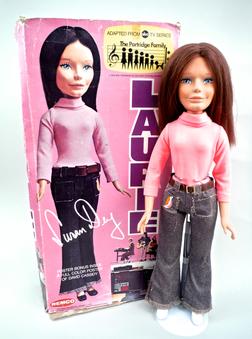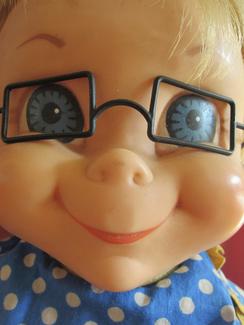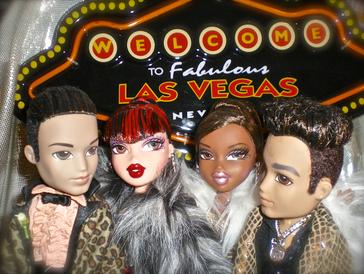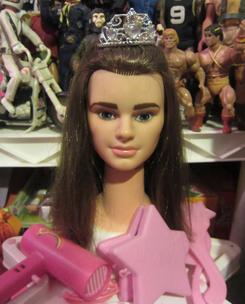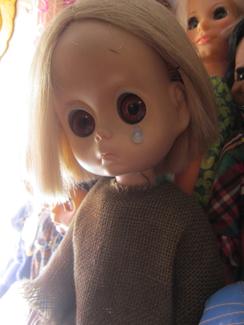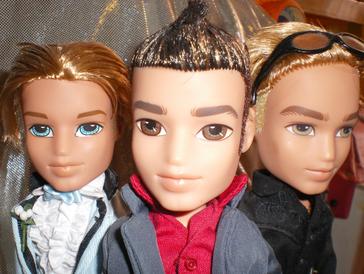 Shop for dolls at From ABBA To Zoom: San Diego Vintage Toys by clicking the button!
​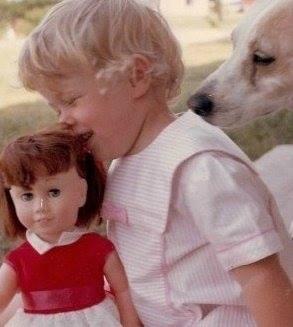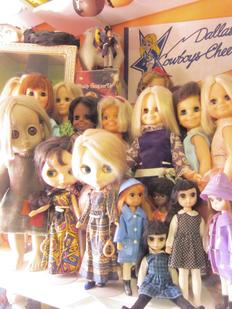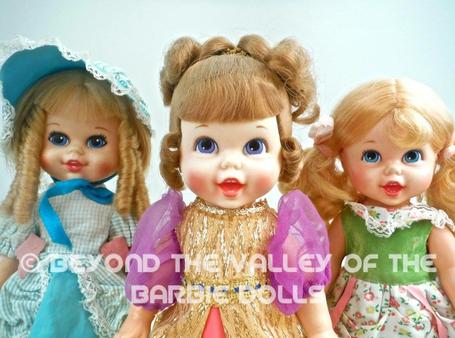 Thank you for visiting David Mansour's Beyond the Valley of the Barbie Dolls. If you like what you see please share with a friend. :)
Living Dead Dolls... They'll love you to the end.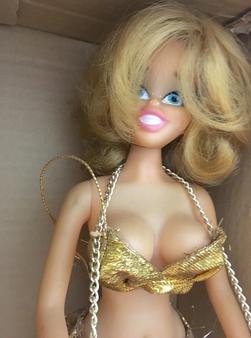 100 pinkish, plastic tiny dolls (about an inch high and with many duplicates in the set) commonly found as novelty advertisements in Archie comic books of the 1970s "all for $1.00." I was obsessed with these as a child, um, actually I'm still obsessed with them!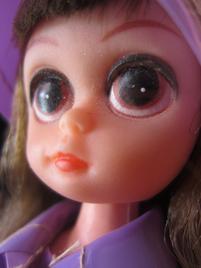 Kid friendlier novelty dolls included the Hey Macarena Doll, Southwest Airlines Flight Attendant, and Real Man Cheerleader, in which your fingers worked as her legs allowing all kinds of cheer moves, such as splits and kicks.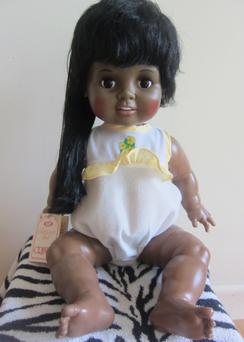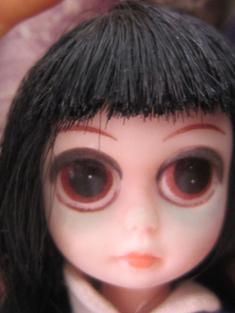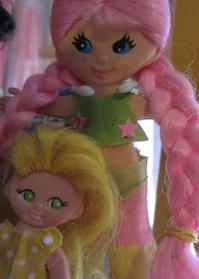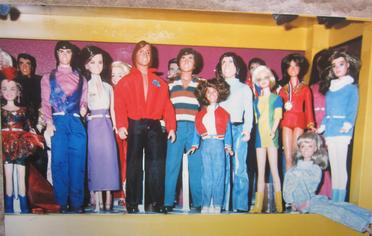 I collected a number of stuff animals but Dream Pets by Dakin are by far my favorites!
Farrah Fawcett, Lee Majors and Lindsay Wagner, and Cher (above).

Boy George, Susan Dey, and a Marie Osmond doll (that's my cat Misty thinking she's really tall) (below)!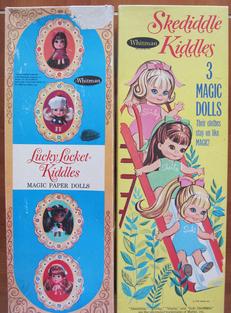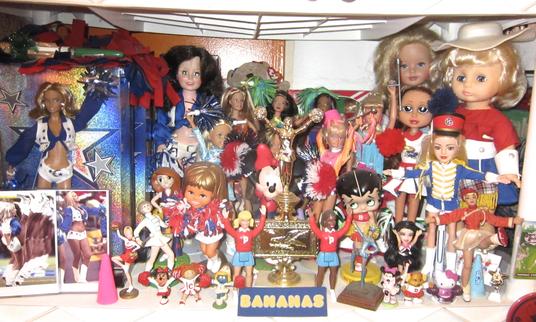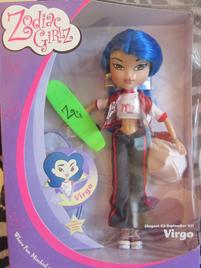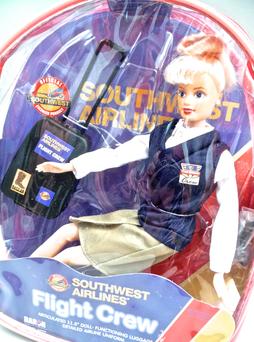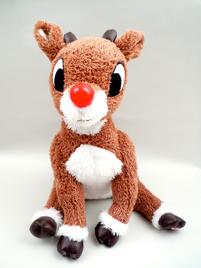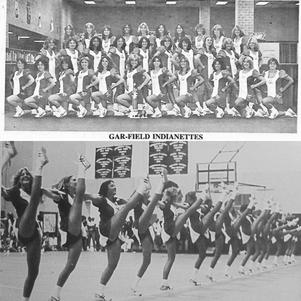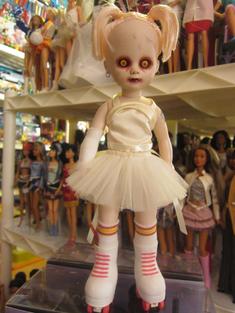 A few of Ideal's popular "grow hair" dolls in my collection: Brandi (above left), Crissy and Velvet (above center), Mia (above right), Dina (below left), and Baby Crissy (below right) photos.

It was a wide mix of "characters" in this collection. The shelving unit overflowed with stuff dolls based on cartoon, film, television, and advertising favorites with a few regular stuff animals thrown in for good measure!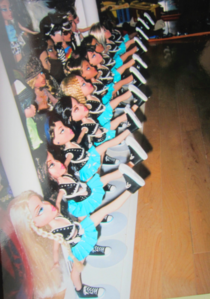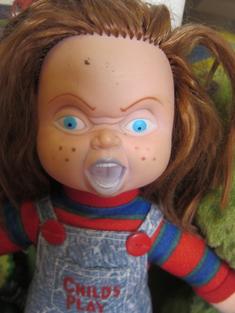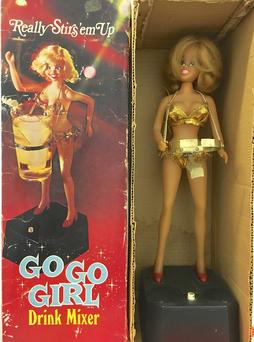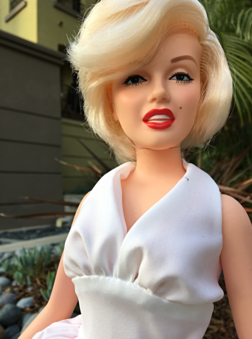 From ABBA To Zoom
For the "Dolls" entry in my book, From ABBA To Zoom: A Pop Culture Encyclopedia of the Late 20th Century, I randomly asked 100 women born between 1959 and 1971 to vote for their favorite childhood doll. This Top 10 list is the result:
Barbie

Raggedy Ann

Mrs. Beasley

Crissy

Chatty Cathy

Liddle Kiddles

Baby Alive

Dawn

Holly Hobbie

​Baby Tenderlove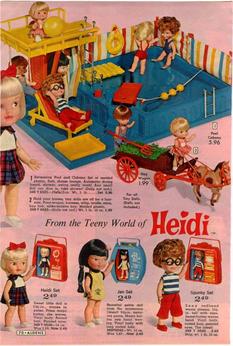 Pediophobia
Pediophobia is the unwarranted, irrational and persistent fear of dolls​. ​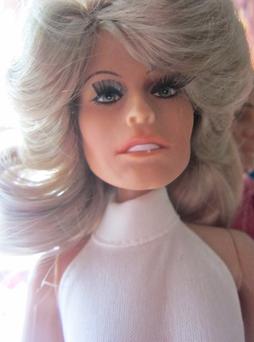 How can naked and ugly be so cute? It can't but if you rub a Troll's hair you'll have good luck!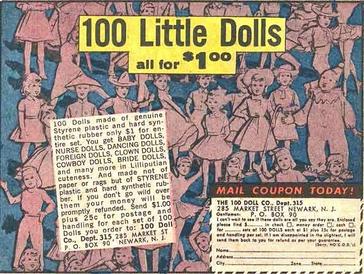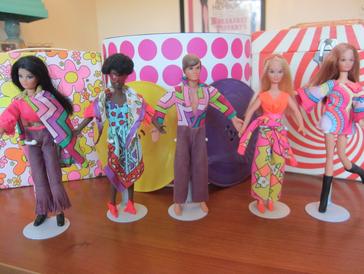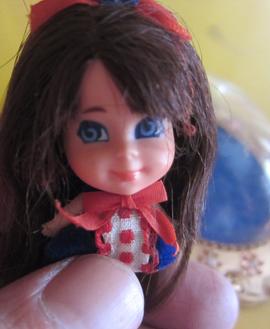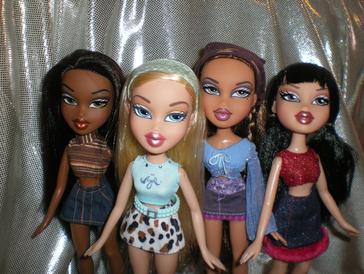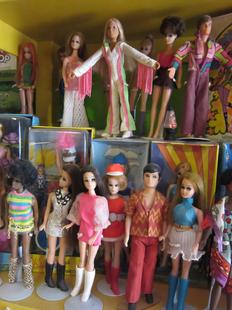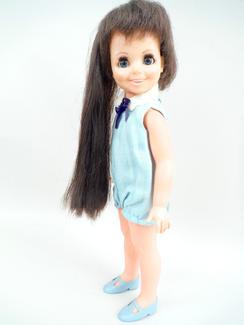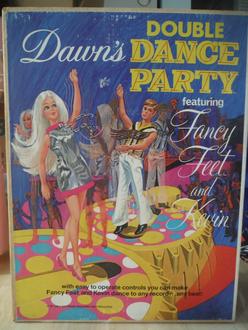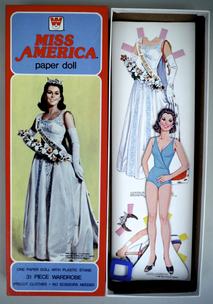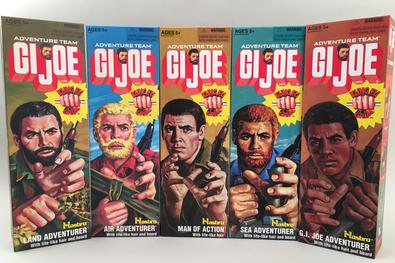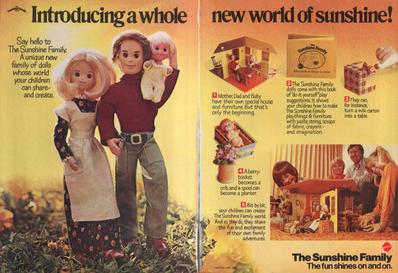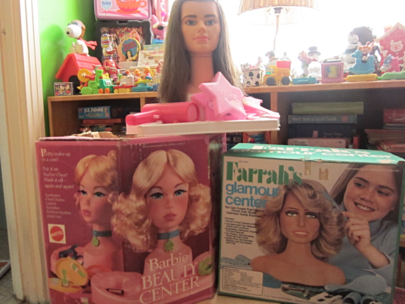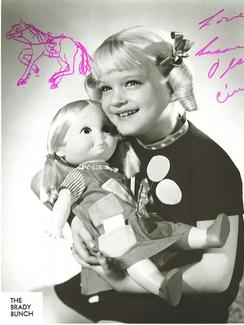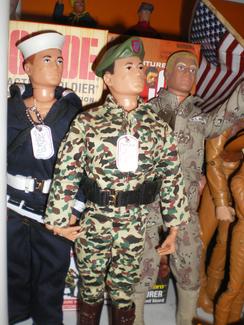 "Ready? OK!" I've been obsessed with cheerleaders, drill teams, and majorettes since attending Gar-Field High in Woodbridge, VA, especially because I really admired our school's awesome drill team, the high-kicking Indianettes (below left). Through the collecting years I'd buy a cheerleader doll or figurine, here and there, and eventually they got their own spirited shelf in the Toy Room (above photo).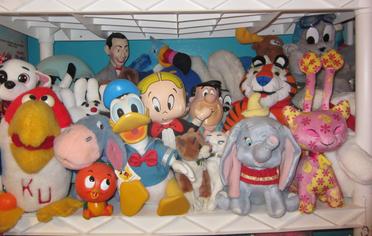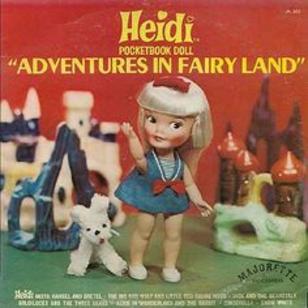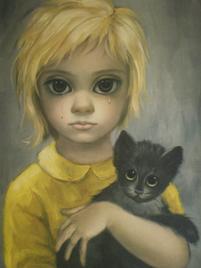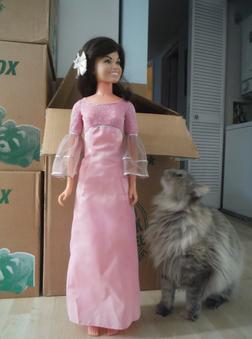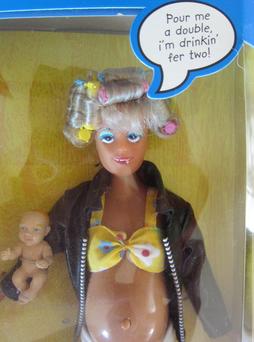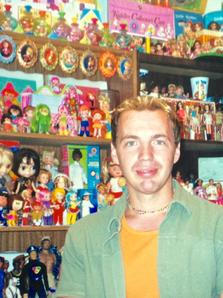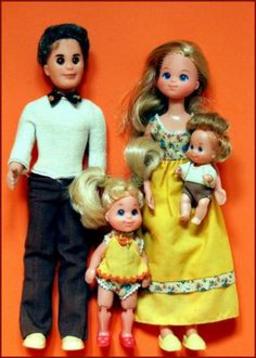 Flatsy... "They're flat--and that's that!"